M4/3 System (11th November 2017)
EM1-Mk2 - Control Customisation - Aide-Memoire

Wonderful Camera, but a Nightmare to Learn !

When setup correctly the Olympus EM1-Mk2 is a truly powerful camera capable of producing stunning results.

However having now struggled with changing basic settings when using the Olympus EM1-Mk2 for about 4 months despite having read myself to sleep on many occasions with the user-unfriendly instruction manual. I decided to try and create my own user-guide in a form that I could more easily understand in the hope that finally I would be able to program my brain and thus prevent getting in a muddle when under pressure to make quick changes during a shoot.

Good customisation is the key...
..but remembering those options is more than half the battle !

I truly hope that the 'Customised Guide Sheets & Blank Sheets' presented below will help those who like me have been struggling.

In a previous life as a teacher I was well aware that we are not all the same and that people have preferred ways of taking in information. Some like to read text, others choose to listen, but my preference has always been to look at images or graphics.

Below are Visual Guide Sheets showing my own EM1-Mk2 Control Customisation and for those who wish to write in their own setups, underneath are Blank Sheets.

Adrian's Customised EM1-Mk2 setup (1of2).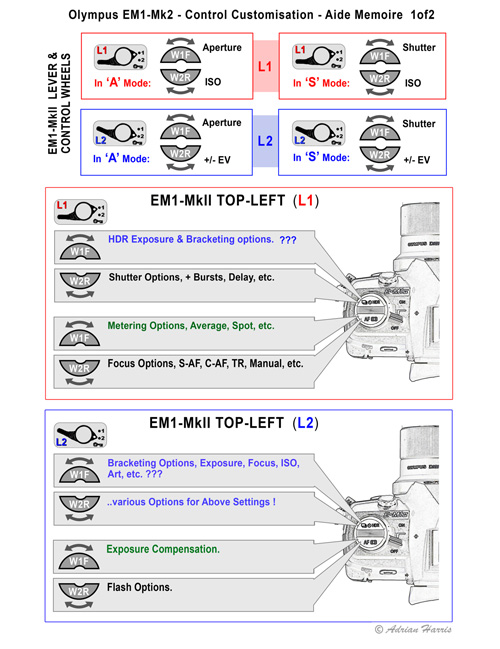 Adrian's Customised EM1-Mk2 setup (2of2).
BLANK SHEETS for Your Own Settings
BLANK SHEETS for Your Own EM1-Mk2 settings (1of2).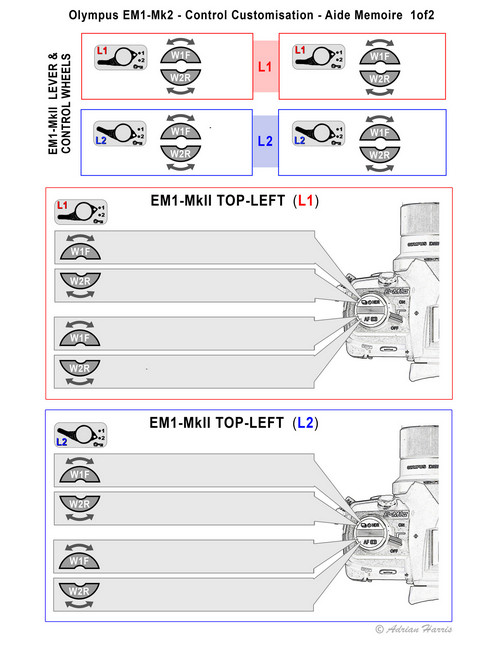 BLANK SHEETS for Your Own EM1-Mk2 settings (2of2).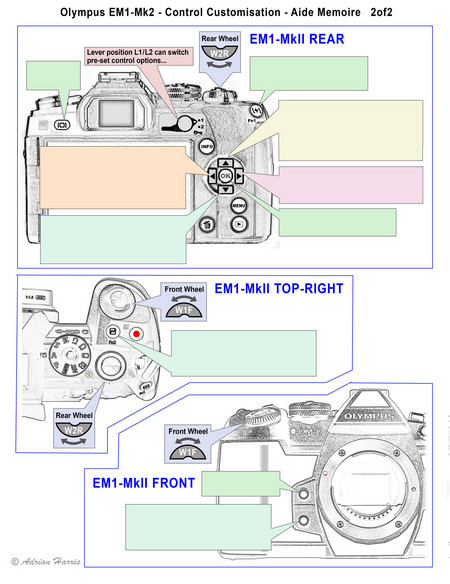 Improvement suggestions always appreciated.
---
Article © Adrian Harris

---