Shrapnel from the 'Graff Spee ' - 360 Rotation view.
Please wait for the whole animation to load
...Once it has loaded, you may rotate the piece of shrapnel by moving the mouse in circles over the image (without clicking).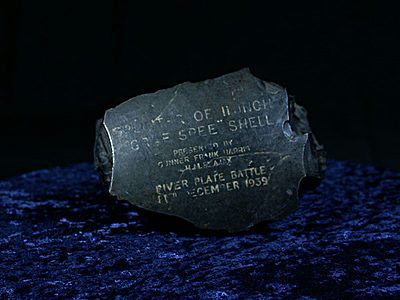 A small piece of an 11inch shell fired from the German commerce raiding pocket battle ship Graff Spee, which hit the 6inch gunned British light cruiser HMS Ajax, during the Battle of the River Plate in 1939.
It was presented to my mother Audrey, when my father to be Royal Marine Frank Harris returned to the UK, after his ship HMS Ajax finished its South Atlantic tour of duty. This object is a small splinter - known as shrapnel - from the complete eleven inch Graff Spee shell, after it had exploded upon hitting one of the rear turrets on the Ajax. It is incredibly heavy for its size and after more than 70 years, this metal still has no rust.
This animation requires JavaScript.
If the animation does not rotate when you move your mouse over it,
please check that you have JavaScript enabled.
More information on: The Battle of the River Plate