South West Heritage Steam Railways
a History and Guide

by Adrian Harris

HALSGROVE
ISBN: 9780857042293
Author: Adrian Harris
Published by
HALSGROVE
Available HERE

The South West is a particularly rich area for preserved steam railways, with five of the most famous and picturesque of the nation's heritage lines in the region: the Bodmin & Wenford Railway, Dartmouth Steam Railway, South Devon Railway, Swanage Railway and West Somerset Railway.

Featuring over 100 spectacular and evocative images, this book will be both the perfect inspiration for a visit to the railways and the ideal memento of your journeys on some of the greatest lines amidst some of the most superb scenery in Britain.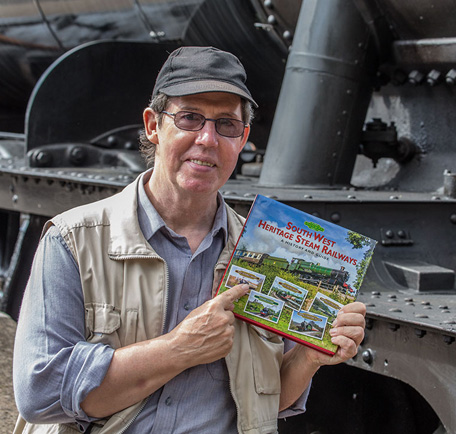 Adrian Harris fell in love with steam at the age of four when his widowed mother regularly took him to Rougemont Gardens which overlooked Exeter Central Station. Adrian was introduced to serious photography while at college but by then the age of steam had passed by and it was not until the first decade of the new millennium nearly forty years later that he accidentally rediscovered steam once more when out with his new digital camera.

Suddenly taken aback by the sight and sounds of a steam train travelling beside him whilst driving alongside the River Dart in Devon his excitement was immense and the love affair with steam rekindled. He determined to explore that line thoroughly and also hunt down further heritage railways in the South West region where he still lives. Within this book he combines his dual passion for both steam railways and photography.
For further details and to purchase, please visit this page on the Halsgrove website.
ISBN: 9780857042293